NocTel Go for Education
Due to the recent pandemic, the requirement for effective remote telecommunication capabilities has become urgently clear.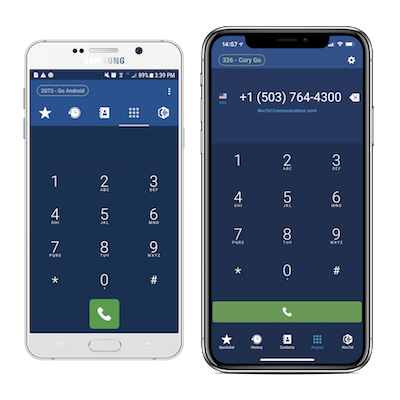 NocTel Go is the Answer
NocTel offers free Go softphone extensions to education facilities
Whether or not you are you a current customer, the NocTel Go application can help your staff be reachable while still protecting their privacy during this difficult time.
This feature is being offered with no per-extension cost while schools are closed due to COVID-19.¹
What this means for you
NocTel Go lets you take the functionality of your school's phone system on the move with your smartphone.
Built for education
NocTel has been providing education-centric telephony features for over a decade.
Simple installation
Use a QR code, email or text message to quickly provision a new extension.
Slipstream integration
NocTel Go can be set up as an independent system immediately or numerous integration options are available to leverage extension dialing with your existing system.
HD Voice Quality
NocTel Go uses HD Voice technology, surpassing the quality of all landlines.
No Hardware Cost
NocTel Go is available in the Apple App and Google Play Stores for no cost upon registration. Only a current smartphone is required.
NocTel Go for Education Offer
Our offer is extended to US-based education facilities
To request access, email support@noctel.com with the following information:

School District or School Name
School City, State and Zip Code

Technical Contact Name
Technical Contact Email
Technical Contact Phone Number
How did you hear about NocTel?
We will respond to your request within one business day.
Upon receipt of customer and billing information, NocTel will provide an invite with access to the NocTel Talk control panel where NocTel Go extensions can be provisioned.

¹ NocTel is waiving the normal monthly extension cost of $14/ea/mo for NocTel Go users. Per minute charges apply at the discounted education rate of 2.5¢ per minute of use, and direct dial phone numbers are available upon request at 18¢/ea/mo.
² The promotional period of the NocTel Go extension will be available for up to 30 days after the education facility is back in session. At that time, the facility has the option to maintain or terminate services.
Contact NocTel for additional details or other available features.