Skip to end of metadata
Go to start of metadata
You can configure multiple sets of phones to ring when a call comes in, escalating to a larger audience with each step.
Step-by-step guide
In this example, we will have three separate groups of phones.  Group A will have a single Receptionist phone, Group B will have the previous group plus a Backup Receptionist phone and Group C will include the previous phones plus an additional Secretary phone.
Create three separate hunt groups, each with a set of members...





Modify the Inbound Behavior of an extension to "stack" the hunt groups in the order you wish for them to ring...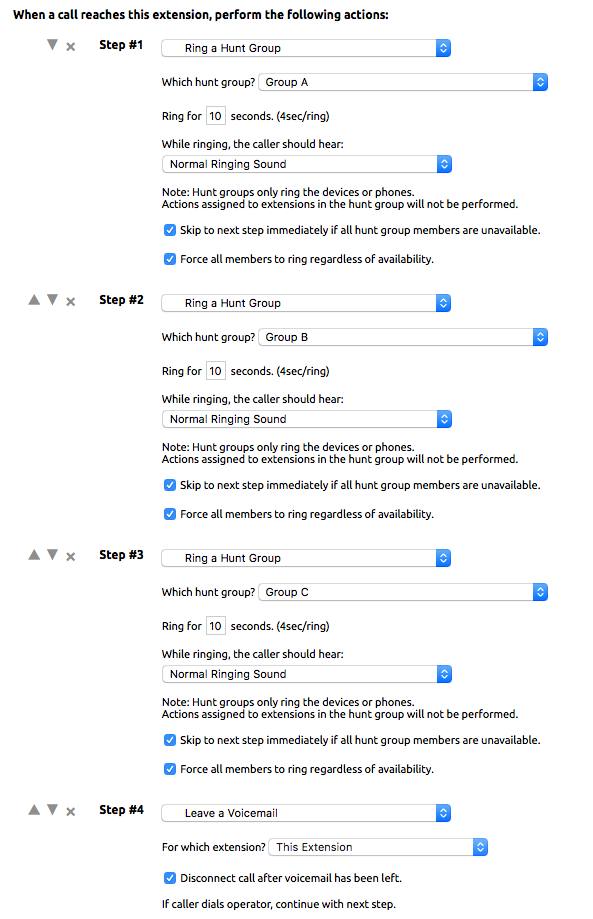 When a caller rings the extension, the inbound behavior will be activated and will progress through each step as you have defined.
If you wish to always ring all members, even if they are already on the phone, you will want to select both checkboxes below each hunt group selection:
Skip to next step immediately if all hunt group members are unavailable.
Related articles