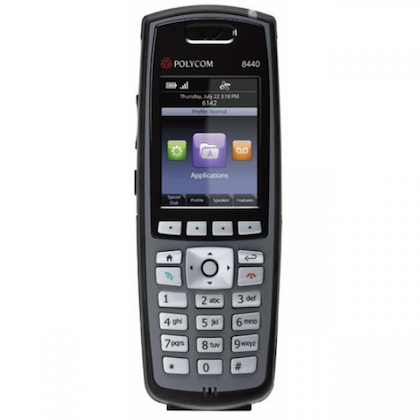 Spectralink 8440
Wireless Phone
Increasing worker productivity and organizational cost savings, the Spectralink 84-Series Wi-Fi phones connect on-site professionals with customers, colleagues, and all the applications they need to perform their best. Designed with the requirements of mobile workers in the healthcare, retail, hospitality, and manufacturing industries in mind; the Spectralink 84-Series handsets unite the most critical elements of workplace communications within a single mobile device that is highly reliable, extra durable, and easy to use.
User Manual
Benefits
Consolidate disparate paging, telephone, scanning, two-way radios, intercom, conferencing, and location tags into a single device
Enable superior voice through Spectralink Voice Quality Optimization—VQO
Rapidly communicate among groups with integrated Push-to-Talk
Operate comfortably in loud environments with advanced noise suppression technology
Simplify deployments with seamless integration – the NocTel Control Panel makes the Spectralink 8440 simple to deploy and easy to administer, upgrade and maintain
Install a future-proof solution that leverages the 802.11n wireless standard
Leverage the industry's best warranty policy for repairs and replacements
NocTel provides exceptional support of the Spectralink-series wireless phones including HD quality voice and fully automated provisioning.